enter HERE
LATEST TOPICS
Free Forums by Bravenet.com
last I looked- February 22, 2017-
---
Couch to 5K Strikes Again!
Author:   mclaugh
Last post: Feb 23, 2017
by mclaugh
---
10th Annual Susquehanna Warrior Trail 5K Race/ Fun Walk on April 1, 2017 at 10:00 15 am.
Author:  Maxim W. Furek
Last post: Feb 23, 2017
by mclaugh
---
GARMIN 235 WATCH FOR SALE
Author:  Randy
Last post: Feb 20, 2017
by Randy
---
I saw you running...
Author:  Kerry z
Last post: Feb 19, 2017
by TW
---
10th Annual Susquehanna Warrior Trail 5K Race/ Fun Walk on April 1, 2017 at 10:00 15 am.
Author:  Maxim W. Furek
Last post: Feb 19, 2017
by Maxim W. Furek
---
Running in Scranton after darkness
Author: Johan
Last post: Feb 13, 2017
by TW
---
Helping Veterans through the Wilkes-Barre VA Hospital  
Author: MetroCast Giving Back 5K - April 8, 2017
Last post: Feb 02, 2017
by MetroCast Giving...
---
POSTED 10/2/16- NEW IN 2017! The TRITON TROT MILE RUN/WALK, will be adding a second race which will be held on the Saturday after the JD mile. This race SPONSORED BY SHANNONDELL will be open to only those 50 years and older...
---

ADDED TO THE
NEPARunner CALENDAR...
Posted in the last 7 days.
These postings appear on the Facebook page.


posted- Friday, February 24, 2017
TUNKHANNOCK • SAT JUN 17, 2017
5K, 10K RUN, 5K WALK
BENEFITS: Damon S. Young Memorial Scholarship
RINGTOWN • SAT JUN 17, 2017
5K RUN & YOUTH 1-MILE FUN RUN
BENEFITS: RINGTOWN RECREATION COMMITTEE
posted- Sunday, February 19, 2017
MILFORD • SAT MAY 6, 2017
8k run and walk
BENEFITS: Restoration projects a Grey Towers, funds raised will benefit the re-establishment of the Beeches.
SCRANTON • SUN OCT 8, 2017
Marathon
BENEFITS: Benefits the children and residents of St. Joseph's Center, Scranton.
posted- Saturday, February 18, 2017
DALLAS • SUN APR 2, 2017
5k run/ walk
BENEFITS: The annual walk/run event will increase stuttering awareness, while also raising funds for NSA and the stuttering support group.
MILFORD • SUN MAR 12, 2017
12 min pool swim/15 min AMRAP/15 min run
BENEFITS: DVHS Wellness Club
If you need something posted email me- runnepa@aol.com
---
LADY STRIDERS COUCH TO 5K TRAINING PROGRAM!- The Lady Striders announces new round of their succesful COUCH TO 5K TRAINING PROGRAM. The new program runs from March 6th to April 23 and is open to anyone who wants to be a RUNNER! It assist uou in completing a 3 mile race (or just run) in 7 weeks time, using intervals of walking and jogging. They meet for three times per week in Mondays and Wednesday evening 5:45pm and Saturday mornings 8:30 at Kirby Park. MORE INFO
POSTED February 8, 2017

---
TIME TO BLAZE A TRAIL!- Baby it cold outside, but spring really isn't far off, well maybe it is but it will be here before you know it.
Right now everything is pretty much dead, but this a great time of the year to take some time out to work on a local trail or even blaze one yourself. Here are three tools I use in working on my trail. A pruner, a fold up saw and a grass sickle.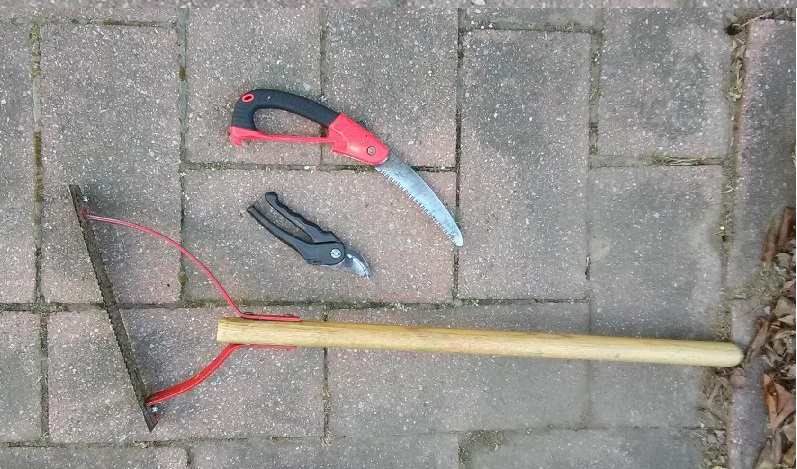 Bring a good pair of gloves and you can rip alot of stuff out by the roots. Trim back some of those branches, picker bushes and even some trees that might be in the way on your trail. You can easily do this on one of your daily runs. Just run and do some trimming. A good idea would be to do one side on your way out and the other on the way back. Another good idea is to run the path for a week or so and keep taking out those pesky branches that you might have missed. POSTED January 8, 2017

---
TO ANYONE USING THE DIKE OR KIRBY PARK- This is a reminder from Chris Belleman from the Luzerne County Flood Protection Authorty about the use of the Dike system for events, such as running events. Permission to use the asphalt maintenance road atop of the levee crest or other Authority property, must be requested to the Authority thorough their Special Events Procedure INFO. For all special events which includes local road races, under no circumstance will the marking of the Authority property be allowed in support of the event. (no spray paint or markings). POSTED May 10, 2016

---
•
Upcoming AREA events...
THU FEB 16, 2017 SCRANTON
RUN AROUND SCRANTON- VAULT TAP & KITCHEN
---

Brian Lewis, Kristin Pellis
Timing & Results: Scranton Running Company
Submitted by: Justin Sandy

SAT FEB 11, 2017 SCRANTON

SHIVER BY THE RIVER #2
---

Jason Palauskas, Amanda Wilczynski
Timing & Results: Scranton Running Company
Submitted by: Justin Sandy

SAT FEB 11, 2017 WILKES BARRE

CUPID'S CHASE
---

Gerard O'Grodnick, Melanie Shepherd
EVENT BENEFITS Community options
Timing & Results: SecondWind Timing
Race Director: Alyssa O'Grodnick(Reyes)

SAT FEB 4, 2017 TUNKHANNOCK

30th ANNUAL FEBRUARY FREEZE 5K
---

Allen Brink, Tiffany Leventhal
Timing & Results: Endless Mountain Bobcats
Submitted by Race Director: Ed Hetzel