Running in Northeastern Pennsylvania
last updated...
Tuesday
Aug 23, 2016
9:09 PM
enter HERE
LATEST TOPICS
Free Forums by Bravenet.com
last I looked- Aug 20, 2016-
---
Races with your dog?
Author: Matt
Last post: Aug 23, 2016 by Kevin B.
---
race fee inflation
Author: Jim
Last post: Aug 21, 2016 by Liz
---
Herbie's Home Town Loop
Author: Kim Gasper
Last post: Aug 11, 2016 by Kim Gasper
---
2016 Olympic Games T&F Finals vincew
Last post: Aug 10, 2016 by vincew
---
Cheap running shoes.
Author: Brad
Last post: Aug 05, 2016 by Matt
---
POSTED 8/8/16- DATE CHANGE---The 2nd Annual Christmas in Conyngham Classic 5k & 1-Mile Fun Walk has been moved to December 10th ...
---
POSTED 5/24/16- DATE CHANGE---HERD THE CURD 5K & 10K, Sept 3rd...
---
POSTED 5/21/16- This years 36th ANNUAL SOL LIPTON RUN FEST, Sept 4th will start an hour earlier this year, 8am...
---
POSTED 12/16/15- The WILKES-BARRE TRIATHLON moves back to August in 2016. August 21st...
---

RECENT NEPARunner.com POSTINGS...
Posted here at NEPARunner in the last 7 days.
These postings appear on the Facebook page.


posted- Tuesday, August 23, 2016

5K & 1 Mile Fun Run
SAINT CLAIR - SUN OCT 16, 2016
BENEFITS: The James J. and Mary Edith Rhoades Foundation

5K Run/Walk
BERWICK - SAT NOV 12, 2016
BENEFITS: Holy Family School, Berwick

posted- Monday, August 22, 2016

5 K Run/Walk
ELYSBURG - MON SEPT 5, 2016
BENEFITS: Elysburg Rotary Club Scholaship Program

5 K run/walk
SCRANTON - SUN OCT 15, 2016
BENEFITS: Young People In Recovery (YPR) Scranton PA

posted- Sunday, August 21, 2016

10k run, 5k run, and 2 mile walk
SCRANTON - SAT NOV 12, 2016
BENEFITS:Saint Francis of Assisi Kitchen


Sept 9 to Nov 12
LADYS STRIDERS COUCH TO 5K-
GOAL- RUN FOR THE HUNGER 5K MORE INFO

posted- Saturday, August 20, 2016

5K Run/Walk
SUMMIT HILL - SAT NOV 12, 2016
BENEFITS: Summit Hill American Legion Community Events & Panther Valley J.R.O.T.C Cadet fund

posted- Friday, August 19, 2016

5K/10K/13.1M/ & 1 Mile Youth Race
HAZLETON - SAT OCT 15, 2016
BENEFITS: Hazleton YMCA/YWCA, Hazleton Power, Hazleton Civic Partnership

5K,9am, 1/2 mile Childrens Fun Run, 9am
CRESCO - SUN OCT 16 2016
BENEFITS: Alex's Lemonade Stand Foundation for Childhood Cancer.

posted- Wednesday, August 17, 2016

5k and All-Abilities walk, Walk at 10am.
SCRANTON - SAT OCT 8, 2016
BENEFITS: Ryan's Run and children and adults with disabilities served by Allied Services
If you need something posted email me- runnepa@aol.com
---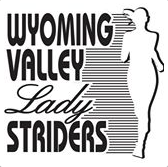 LADY STRIDERS PRESENTS: COUCH TO 5K PROGRAM 9/19 to 11/12, RUN AGAINST HUNGER 5K- -
The Lady Striders present: (a subsidiary of the WYOMING VALLEY STRIDERS) Couch to 5K Training Program—9/19/16 to 11/12/16 Do you have a mom, dad, sister, friend, child, etc… who wants to be a RUNNER?

This program is designed to get you off the couch and able to complete a 3 mile race in 8 weeks' time, using intervals of walking/jogging. We will meet three times per week, for 30-45 minutes each time: Mondays and Wednesdays at 5:45 pm at the Church Street Park in Kingston; and Saturdays at 8:30 AM, at Kirby Park. Our goal race will be the RUN AGAINST HUNGER 5K in Scranton on 11/12/16.
MORE INFO

POSTED Aug 21, 2016

---
WVS CLIFF ROBBINS MEMORIAL HS XC RACES LETTER TO COACHES OPEN INVITE- -
Wyoming Valley Striders will be hosting their 42nd running of the Wyoming Valley Striders Cliff Robbins Sr. Memorial High School Cross Country Races on September 3rd. Many teams use this meet as an early season test for racing fitness as well as aguage to see how competitive they be at the State Meet. Here is an open letter to the Cross Country Coaches inviting their teams to participate in this fine event, which will take place at Letterkenny Field in Dallas, home course of the Misercordia University Cougars. ENTRY & INFO

POSTED June 30, 2016

---
TO ANYONE USING THE DIKE OR KIRBY PARK- This is a reminder from Chris Belleman from the Luzerne County Flood Protection Authorty about the use of the Dike system for events, such as running events. Permission to use the asphalt maintenance road atop of the levee crest or other Authority property, must be requested to the Authority thorough their Special Events Procedure INFO. For all special events which includes local road races, under no circumstance will the marking of the Authority property be allowed in support of the event. (no spray paint or markings). POSTED May 10, 2016

---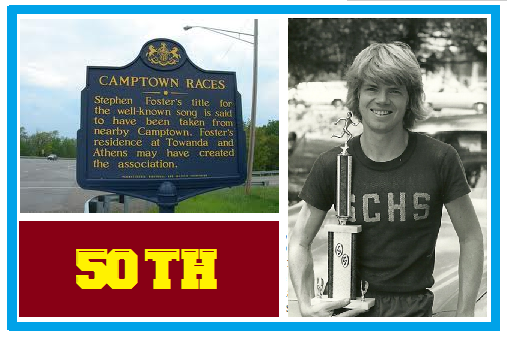 CAMPTOWN RACES TO CELEBRATE 5OTH ANNIVERSARY- 50th Running of the Camptown Races to be run Saturday, September 10th, Camptown is in Bradford County.
The historic Camptown races offers a challenge like no other. The race is approximately 10k in length and offers both road and trail. The trail section is approximately 2.8 miles long and is technical! Be prepared for tree roots, loose rocks, and a creek crossing. Earn your place in history by conquering this challenging course! Pictured above is Course Record holder Tom Carter
EVENT WEBSITE
POSTED February 7, 2016

---
FOR LATEST RESULTS POSTED HERE SCROLL BELOW UPCOMING EVENTS
Latest Results...
PAST 30 DAYS or so
SUN AUG 21, 2016 HAZLETON
13th ANNUAL RUN FOR THE CANNOLI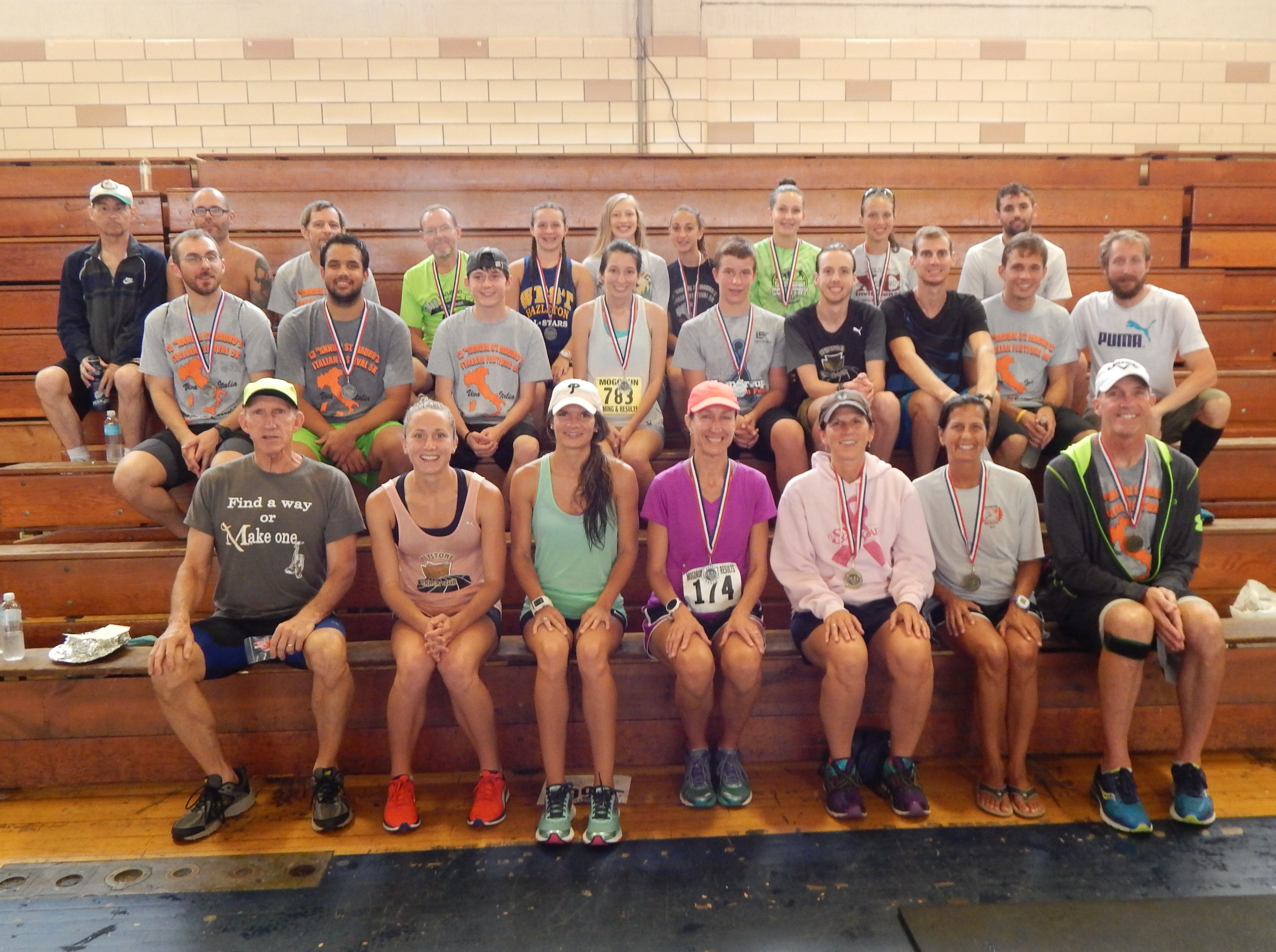 ---

Shawn Lake, Emily Gianotti !!! new course female record !!!
EVENT BENEFITS Queen of Heaven Parrish, Hazleton, PA Submitted by Race Director: Dino Oberto

SUN AUG 21, 2016 BEAR GAP

THE 8TH ANNUAL HELLBENDER 5K
THE 8TH ANNUAL HELLBENDER HALF MARATHON FOOTRACE

---

Half Marathon- Brock Waughen, Amanda Yagel
5K- Ethan Knoebel, Haley Scopelleti
EVENT BENEFITS Race Proceeds benefit RCVCA to help promote clean water in the State Forest and surrounding Roaring Creek Watershed
Submitted by: Kristen Vitkauskas, Robert Welby
Race Director: Daniel Brassington, Robert Welby

WILKES-BARRE TRIATHLON
---

OLYMPIC- Sean Robbins, Erin Hannigan
SPRINT- Tim Straub, Laurie Hug
Timing & Results: Lin-Mark

SAT AUG 20, 2016 LAKE ARIEL

THE 2nd ANNUAL DUB DUB 5K (WW5K)
---

Leo Kolshorn, Michelle Falzone
WALK- Susan Stalker
EVENT BENEFITS the Western Wayne Cross Country Team
Timing & Results: Wil-Time
Race Director: Coach Emily Martinkovitch

SAT AUG 20, 2016 TOWANDA 

TOWANDA RIVERFEST 5K 
---

Simon Smith, Gwendolyn Braymiller
EVENT BENEFITS Proceeds from this event will be split between the Abuse & Rape Crisis Center (ARCC)
Submitted by Race Director: Amy Miller

SAT AUG 20, 2016 PITTSTON

18th ANNUAL MILES FOR MICHAEL, PITTSTON TOMATO FESTIVAL 5K RUN & FUN WALK
---

Chris McCabe, Caitlin Gaughan
1.5 Mile WALK- Denise Hazzouri, Nathan Zielinski
EVENT BENEFITS Miles for Michael
Timing & Results: Scranton Running Company
Submitted by: Justin Sandy
Race Director: Jay Duffy

THU AUG 18, 2016 SCRANTON

RUN AROUND SCRANTON-Nativity Annual Picnic


B Ray
Kris Danhovitz
Submitted by: Justin Sandy, SRCO

SAT AUG 13, 2016 FACTORYVILLE

CHRISTY MATHEWSON BIG 6K
---

Mark Arziem, Jennifer Besten
MILE FUN RUN- Avery Cole, Logan Fayocavitz
EVENT BENEFITS Factoryville Womens Civic League
Submitted by Race Director: Denise Maleski

SAT AUG 13, 2016 DUNMORE

SAINTS ANTHONY AND ROCCO BUNKER HAUL
---

Nate Skrutski, Melissa Delfino
WALK- Lori Carey, Victor Joseph Coggi,
Kids under 12- Tommy Clark, Shannon O'Malley
EVENT BENEFITS Ss. Anthony and Rocco Parish 303 Smith Street Dunmore, PA 18512
Timing & Results: Scranton Running Company
Submitted by: Justin Sandy
Race Director: Lori

SAT AUG 13, 2016 BLAKELY

4th ANNUAL AJ GIOMBETTI MEMORIAL 5k Walk/Run 10k Run
---

Kellan Rowland, Kat Heagberg
10k run- Joe Cardillo, Maura Armezzani
EVENT BENEFITS Allied Services DePaul School, PATH to Change, and the United Neighborhood Centers of NEPA.
Timing & Results: Scranton Running Company
Submitted by: Justin Sandy
Race Director: Ana Giombetti

SAT AUG 13, 2016 SHOHOLA

TRAILS END 5K
---

Volkov Yuriy, Cara Wriolie
WALK- Susan Arbeeny, Alfred Davila
EVENT BENEFITS Trails End Bucks Basketball League
Timing & Results: Kirby Timing Services
Submitted by: John Kirby

THU AUG 11, 2016 KINGSTON

SRRC MILE # 2
---

Michael Harnish, Marina Orrson
Timing & Results: Susquehann River Runners Club
Submitted by: Chris Wadas

SUN AUG 7, 2016 SHAWNEE ON DELAWARE

REVOLUTION3 POCONO MOUNTAINS 2016

SUN AUG 7, 2016 HANOVER TWP.

5 "O" 5k

---

Noah Segear, Alicia Orzechowski
WALK- Brian Pall, Ann Bawaszek
EVENT BENEFITS Hanover Township Police Department
Race Director: Kailey, Senior Project

SAT AUG 6, 2016 LAKE WINOLA

7th ANNUAL DR. THOMAS ZUKOSKI MEMORIAL 5K RUN/WALK
---

Jacob Ross, Haley Varner
EVENT BENEFITS Saint Joseph's Center in Scranton, PA

SAT AUG 6, 2016 FOREST CITY

The 2016 Coal Cracker Race
---

1/4 MARATHON- Steve Brown, Erin Conrad
2 MILE RUN- RACHEL KORTY, BEN DeMARK
EVENT BENEFITS Forest City Regional Cross Country Team Submitted by: Bridgette Wiley, FCXC
Race Director: Luke

SAT AUG 6, 2016 CONYNGHAM

VALLEY DAY GREAT 8 MILE 5K RACE
---

5K RUN- Robert Moulton, Logan Hansman
5K WALK- Dan Rebarchak, Beverly Collins
8K RUN-Dylan Gearinger, Caitlin Gaughan
EVENT BENEFITS Valley Food Pantry and CVCO
Timing & Results: Second Wind Timing
Race Director: Amy Cartwright, Brian Early

MOSCOW FIRE RUN FOR HOSES
---

Dave Popper, Samantha Snead
FF- Joe Kramick, Karen Brown
EVENT BENEFITS Moscow Fire & Hose Company
Timing & Results: Scranton Running Company
Submitted by: Justin Sandy

THU AUG 4, 2016 TUNKHANNOCK

31st PEOPLES SECURITY TRITON HOSE COMPANY JACK DANIELS MILE
---

Jeffrey Skwierz, Marina Orrson
EVENT BENEFITS Triton Hose Company
Timing & Results: Scranton Running Company
Submitted by: Justin Sandy
Race Director: Dick Daniels

STRIVE TRIATHLON
---

Kiley Austin-Young
Jessica Chong

SAT JUL 30, 2016 LAKE CAREY

Mountain Energy Services ADMIRAL STARK 5K RUN/WALK, FRANK J. VALVANO MEMORIAL 10K"
---

5k run-Dan Toye, Kalee Lavin
5k Walk- Dave Talcott, Elizabeth Kolesar
10k Run-Rob Ahearns, Julia Cusatis
EVENT BENEFITS Lake Carey Volunteer Fire Company
Submitted by: Richard Daniels
Race Director: Colby Yursza

THU JULY 27, 2016 DALLAS

ELITE SPINE AND SPORTS PHYSICAL THERAPY MILE
---

Michael Harnish, Marina Orrson

4th ANNUAL BEECH MOUNTAIN 5K RUN/WALK
---

Robert Moulton, Nadalie Soloman
EVENT BENEFITS Race Proceeds benefit Brandon's Forever Home Submitted by Race Director: Wendy Reshetar

SAT JUL 23, 2016 MILLVILLE

SICK TRAIL RUN
---

Hamyre Cannon, Marian Orrson
Submitted by Race Directors: Scott Sick

SAT JUL 23, 2016 SCRANTON

LOUIS KOCH 5K MEMORIAL RUN FOR SUICIDE AWARENESS <
---

Steve Brown, Kate Reilly
WALK-Beck Chickillo, Michael Chmura
EVENT BENEFITS Trout Unlimited and also for the Louis A. Koch Annual Memorial Scholarship at Holy Cross High School in Dunmore, PA.
Timing & Results: Scranton Running Company
Submitted by: Justin Sandy

THU JUL 21, 2016 SCRANTON

RUN AROUND SCRANTON- Bar Pazzo